01.

specialization

We specialize in Supplemental Job Displacement Benefits (SJDB) Voucher Counseling Services, Return-To-Work-Fund Benefits, Vocational Research, Transferable Skills Analysis, and Expert Witness Testimony.
02.

Counselors

All these make us count among the Best Vocational Counselors in California. Through the identification of suitable, gainful Vocational training, our Vocational counselors work directly with attorneys, insurance companies, schools, and agencies.
03.

AIM

They aim to provide individual Vocational rehabilitation counseling services, which include counseling, Vocational exploration, labor market & school research, plan development, monitoring, and job placement. We can also guide you on how to choose the top Vocational Training Institute in California.
VOCATIONAL RETURN-TO-WORK COUNSELING
A Team Of Best Vocational Counselors
Laura Wilson
Owner
Laura is a leading Vocational Rehabilitation Counselor, providing return-to-work services and enriching both Spanish and English speaking injured workers' lives through growth, support, and knowledge for over 20 plus years' experience
.
Valeria Martinez
Records/Reports Analyst
Valeria has been with LMWA for over 5 years reviewing medical reports and, more recently, working alongside Ms. Wilson on Vocational Expert Reports and Job Analysis. Valeria attends CAAA chapter meetings, conventions, and seminars to provide better insight directly to our clients and injured workers. Having worked in the legal arena since 2006, her experience spans both the legal and medical areas where she gained an invaluable amount of knowledge in Family, Immigration, Criminal, and Workers Compensation Law. She also attends Rio Hondo College to enhance her education with an Associate Degree in Administrative Assistance.
Maria Noris
Account Administrator
Maria has been with LMWA for six years as an Account Administrator. She has been in the workers' compensation industry since 1999. Maria takes pride in her work and truly enjoys being a part of the team and assisting injured workers in developing their new career paths.
Brenda C. Quirarte
Front Office Representative
Brenda is our front office representative and the newest member of the Laura M. Wilson & Associates team. She schedules appointments, welcomes and greets clients and visitors to the department in a manner that is very helpful and friendly; determines the purpose of visit and directs them to the appropriate person or department. Her main goal is ensuring that all interactions between administration, employees, clients, and outside services run as smoothly as possible. Brenda also provides the necessary information to clients, law offices, and insurance companies according to the LMWA policies and procedures. She is currently attending ELAC and majoring in Criminal Justice.
Nonnie Mata
Marketing Representative
Nonnie is the marketing representative for Laura M. Wilson & Associates. She has been in the Workers Comp field for over 25 years. She loves meeting new people in the Work Comp community and truly enjoys assisting clients.
Sara Espinoza
Voucher Case Assistant
Sara has been with LMW for 3 years, starting as a file clerk and working her way up to administrative assistant. Sara works in both the Vocational Expert and Voucher departments. She assists Ms. Wilson with marketing efforts and other necessary projects as needed. Sara enjoys working at LMW and helping injured workers. During her free time, she enjoys spending time with her children and family.
Steven Quiroz
Case Assistant
As a new employee to the workman's compensation industry, Mr. Quiroz has adapted to this field quite well. His exceptional problem-solving skills, knowledge, and compassion toward the injured worker have made him a kind of "swiss army knife." of Laura M. Wilson & Associates. He is currently studying to obtain his B.S. in Computer Science at California State University Long Beach and is helping the company grow. His hobbies include playing basketball, working on software development projects, and eating burritos.
Ronnie Escoto
Voucher Case Manager
Ronnie is our Voucher Case Manager. He is bilingual. He recently graduated from California State University, Long Beach with a BA in History, and has an Associate's degree in History as well. With his background in History, he is used to doing a massive amount of research. Also, since he was in student government when he went to college, he is well versed in the knowledge of different community colleges in California. His hobbies include reading books, playing soccer, photography, and expanding his knowledge of various things
Download Our Brochure in PDF Format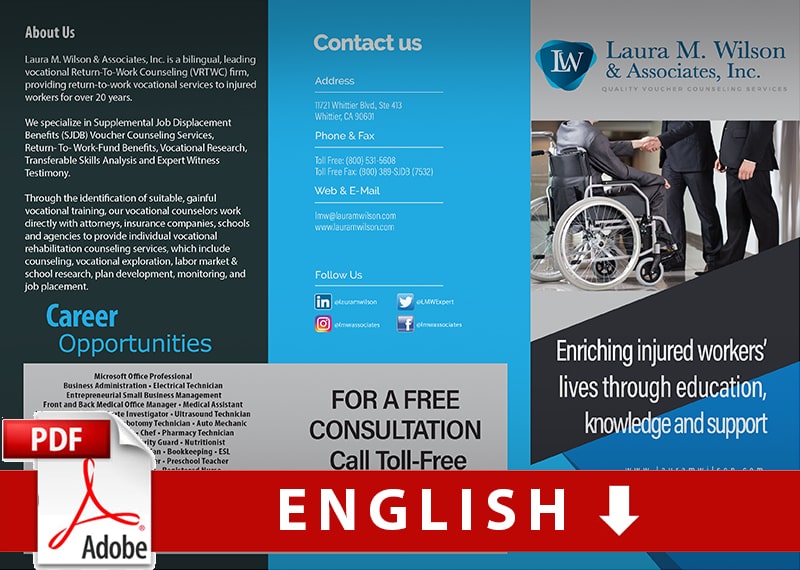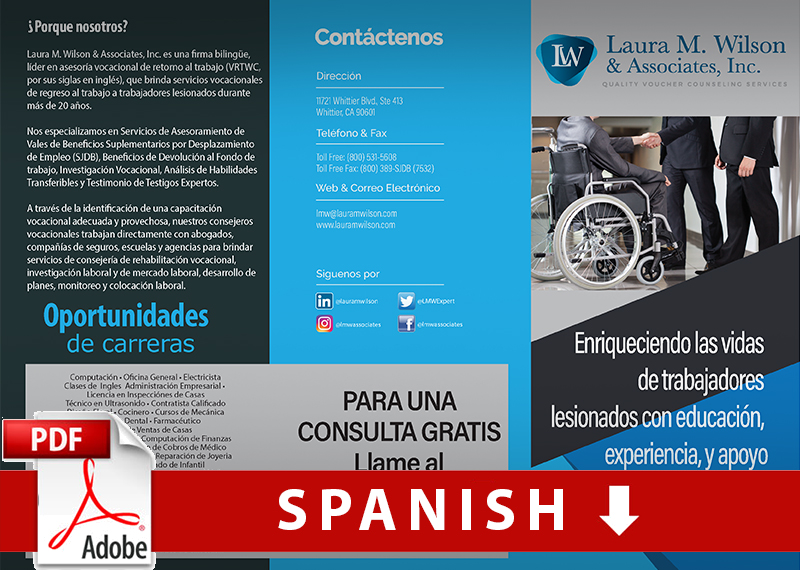 10350 Heritage Park, Ste 106
Santa Fe Springs, California 90607.
Call Toll Free: 1-800 531-5608
562-458-7532(SJDB)
Fax 1888 389-7532(SJDB)